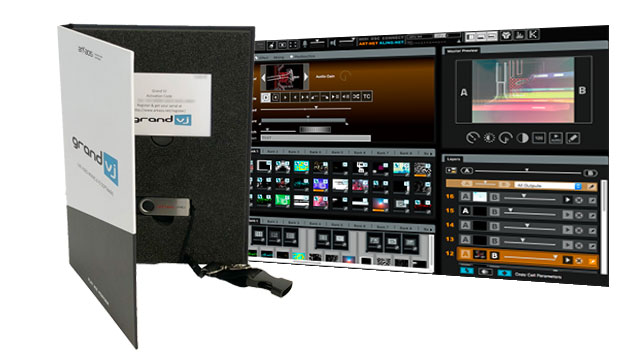 Here's the all-new, improved GrandVJ 2 staging
GrandVJ 2 comes with a new interface, making it even more user friendly and straightforward, while integrating new functionalities in it.
GrandVJ 2.6 – New Key Features
TrackDJ source to synchronize visual playback to external DJ controllers.
Support for Timecode over Art-Net.
More precise beat synchronization of visuals.
Improved support for spans to split output in the VideoMapper.
Better software responsiveness.
For more details click on Release Notes
Quicktime and 64 Bits
Since all applications are now in 64 bits and Apple does not provide QuickTime in 64 bits, GrandVJ now uses FFmpeg to read all QuickTime codecs.
There is no need anymore to install QuickTime on Windows. In the previous versions of GrandVJ, QuickTime was used to play ProRes encoded videos.
Available with Ableton Link
Play. Mix. Perform.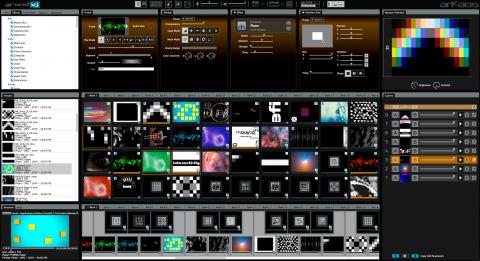 Manipulate, trigger and mix video clips with sound, animated text strings or live cameras in much the same way as mixing music to create a spectacular audiovisual show. GrandVJ can mix up to 16 layers with a vast library of video effects, transitions and sound driven visual generators.
The A/B crossfading mode with independent preview makes it incredibly flexible to perform live, and the Browser Preview feature lets you preview visuals, effects, transitions and sources before sending them to the output, just like a DJ previews his next track in his headphones.
Works with all setups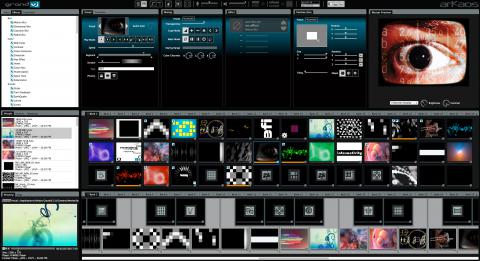 GrandVJ runs on both PC and Mac and accepts all common video and image formats. Its intuitive interface lets you turn your keyboard into a super controller for zipping through the functions. Need more? GrandVJ's learn mode makes it a breeze to set up any MIDI controller and with support for the network based OSC protocol you can even control GrandVJ with an iPhone or an iPad. Hook it up and start the show!
VJs & Musicians reunited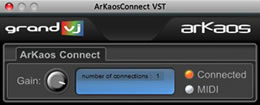 The ArKaosConnect plug-in allows GrandVJ to receive sound and MIDI from any audio sequencer compatible with VST plug-ins, running on the same machine or on another machine on the network. Incredibly easy to setup, the plug-in configures itself automatically!
For VJs, ArKaosConnect enables a new level of interaction with Musicians. 
For Musicians, ArKaosConnect makes it fun and easy to add a video track to compositions during live performance.
Easy as 1, 2, 3,...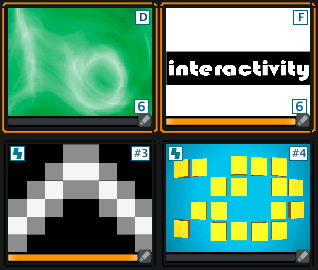 GrandVJ is very easy to customize to each user's preferred setup. The interface can quickly be modified to fit individual needs and preferences.
Mapping MIDI controllers with the new learn mode is easy as pressing keys on your device but you can also import predefined presets for the most common MIDI controllers.
Can compose with Quartz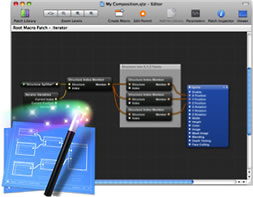 On top of all this, Mac OS X users can mix Quartz Compositions (.qtz files) as Sources with all their other visuals, but also as Effects, with GrandVJ automatically mapping the composition inputs as effects parameters.
GrandVJ comes preloaded with a set of great Quartz Compositions from selected Artists, you can easily find tons of other .qtz files out there on the Web and of course you can use your own compositions created with Apple's Quartz Composer, which makes visualization possibilities in GrandVJ practically endless..
GrandVJ Video Presentation
Click here for more GrandVJ videos
Need some footage?
The software installer that you can download from this web site already comes with some SD video loops to get you started.. Okay you need high quality? The boxed version contains the same software but adds an additional DVD-Rom stuffed with 4.53 GB of HQ video footage ready to be mixed in the software.
These additional loops are exclusively available with the box and can't be obtained separately, they have been made especially for VJing purpose by professional VJ's and Visual Artists from all over the world, check the GrandVJ Content page for more info.